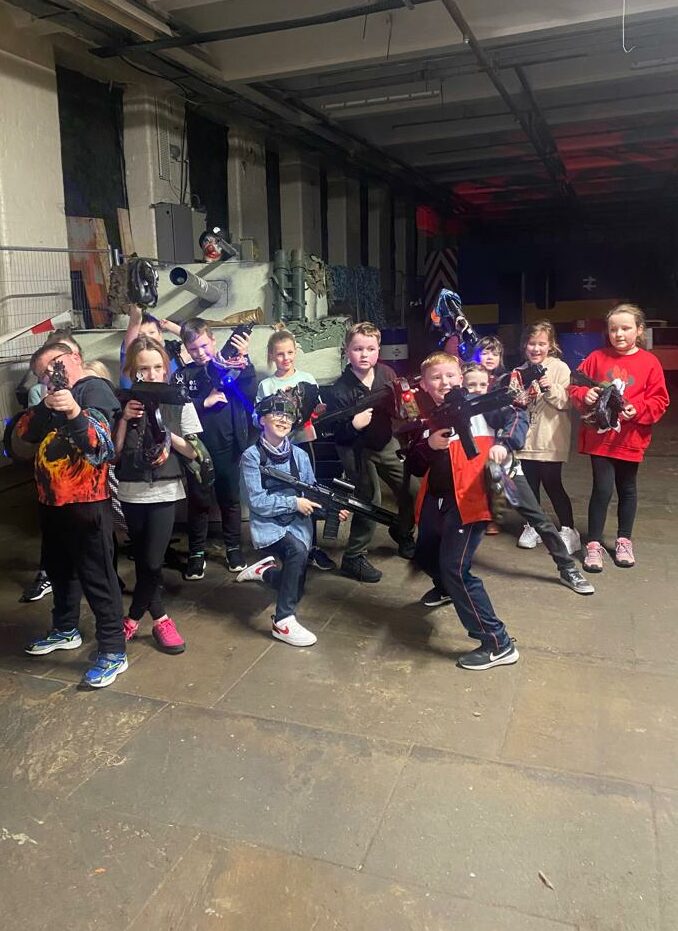 WELCOME TO LASER TAG MANIA
Laser Tag Mania is the ultimate destination for laser tag enthusiasts in Queensbury, Bradford, West Yorkshire. With a fully themed arena, state-of-the-art equipment, and a dedicated team, we offer an action-packed and immersive experience that will leave you exhilarated. Join us for thrilling laser tag battles, axe throwing challenges, and go-karting excitement that will satisfy your craving for fun and adventure. Whether you're a seasoned pro or a first-time player, Lasertag Mania provides an exciting, safe, and fun experience for all ages. Make your next quest a visit laser tag mania.
Lasertag is a fast-paced, high-energy game with infrared-emitting light guns used to tag designated targets on opponents. Players are divided into teams and given laser guns, and then compete to achieve certain objectives while avoiding being "hit" by opposing team members. Each session is one hour long and will include a full safety briefing onboard our specially designed Chinook helicopter.
Lasertag is a great way to get exercise, spend time with friends and family, get in the zone and let off some steam.
What makes Laser Tag Mania so special?
Lasertag Mania is not your average laser tag arena. We pride ourselves on providing a unique and exciting experience that is unlike anything else in the area. Our arena is fully themed, with military grade weapons that are sure to transport you to another world. Our equipment is state-of-the-art, ensuring a safe and fun experience for everyone. And our staff is highly trained and dedicated to ensuring that you have the time of your life.
But we don't just offer laser tag. Lasertag Mania also provides axe throwing and hover karting/go-karting, giving you even more options for an action-packed day out. Whether you're looking to hone your aim with an axe, speed around a track in a go-kart, or experience the thrill of hover karting, Lasertag Mania has something for everyone.
Guests may also take advantage of unlimited usage of our arcade and cafe facilities.
Looking for the perfect place to host your next birthday party, corporate event, or other special occasion? Look no further than Lasertag Mania. We offer a variety of party packages that can be tailored to your specific needs and budget. Our party packages include everything you need for an unforgettable experience, including laser tag games, food and drinks, and even a private party section. Plus, our friendly and experienced staff will be on hand to ensure that your event runs smoothly from start to finish.
Contact Us for further information.
Prices include up to 12 children
– Additional spaces available –
(Maximum group size 16)
2 Games of Laser Tag
Party bag for each child
Buffet style kids food inc:
Pizza | Hot Dogs | Cake | Crisps | Juice
Thurs & Fri- £150
Weekend – £200
Laser & Karting Party Package
Includes all of the Party Package
PLUS
1 x Karting session at
HOVER KART MANIA
Full use of games area inc:
pool, table football & gaming stations
Only £250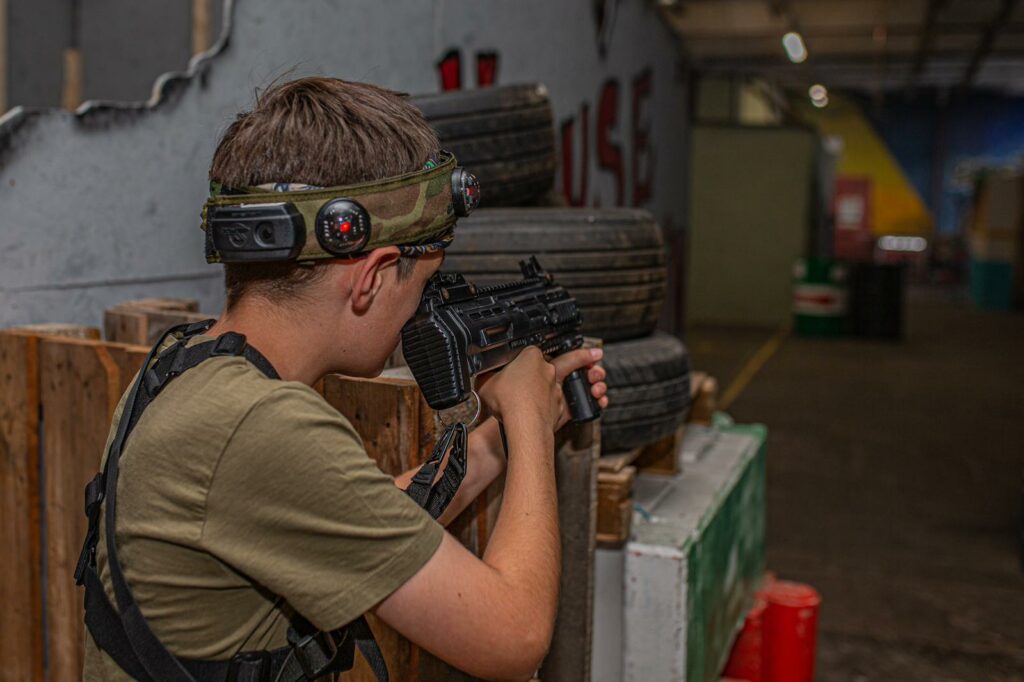 What is the best age for laser tag?
Laser tag is suitable for a wide range of ages. Generally, children as young as 5 or 6 can enjoy laser tag, and there is no upper age limit. It's a great activity for kids' birthday parties, as well as for teenagers and adults who are looking for some thrilling fun.
Absolutely not! Laser tag is a fun activity for people of all ages. It's not just for kids and teenagers. Adults can also have a blast playing laser tag. It's a fantastic way to let loose, unleash your competitive spirit, and have an adrenaline-pumping experience.
What are the basic rules?
The basic rules of laser tag involve shooting the opposing team members with your laser gun while avoiding getting hit yourself. Different game variations may have specific objectives, such as capturing a flag or defending a base. Each player wears a vest or a target on their body that registers hits from the laser guns.
How long is a game of laser tag?
The duration of a laser tag game can vary depending on the specific game mode and the facility. Typically, a single game lasts around 20 minutes. However, Lasertag Mania offers multiple game options, and you can play multiple rounds to extend your laser tag experience.
Yes, you can wear jeans or any comfortable clothing to laser tag. It is recommended to wear closed-toe shoes for safety and ease of movement. Lasertag Mania suggests wearing comfortable clothing that allows for free movement during the game.
How long does a laser tag party last?
The duration of a laser tag party at Lasertag Mania can be customized to your needs. Typically, parties last for about two hours, which includes time for laser tag games, food, and celebration in the private party room. However, the duration can be adjusted based on your preferences and the chosen party package.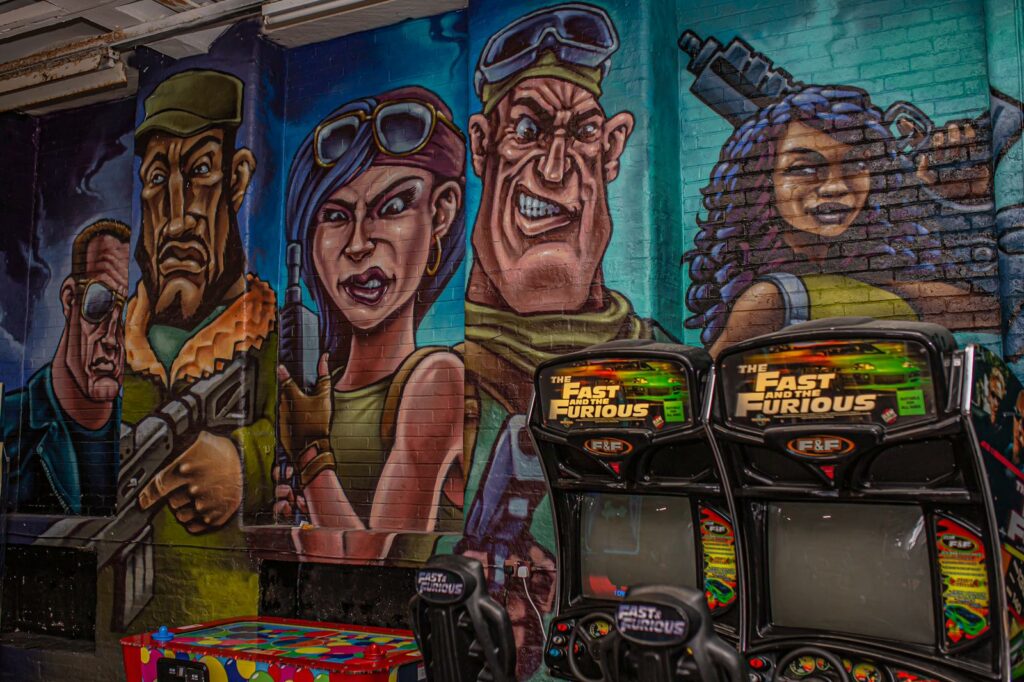 How many people are in a group in laser tag?
The number of people in a laser tag group can vary depending on the size of the facility and the specific game mode being played. At Lasertag Mania, we can accommodate groups of various sizes, from small groups to large parties. Our experienced staff will ensure that everyone has an incredible laser tag experience.
Is laser tag still popular?
Absolutely! Laser tag continues to be a popular and exciting activity for people of all ages. It's a thrilling way to have fun with friends, celebrate special occasions, or engage in team-building activities. Laser tag's unique combination of competition, strategy, and physical activity keeps it a beloved pastime for many.
So what are you waiting for? Head down to Lasertag Mania today and experience the thrill of laser tag, axe throwing, and go-karting for yourself. With our unbeatable combination of excitement, safety, and fun, Lasertag Mania is the ultimate destination for anyone looking for an action-packed day out.